Radio Free Palmer, KVRF 89.5 FM, has participated in Pick.Click.Give since 2012. Each year has seen growth in dollars, donors, or both. We are very grateful to the program and the income it provides through individual donors. In 2013 we won an award for greatest percentage increase in dollar donations over the previous year.
Typically, you can change your Pick.Click.Give donation through August 31. Here how to login and change your donation:
(If you still need to file for your PFD, go to the My Alaska website to sign in or create a new account).
1. Go to 2013 PFD Retroactive Application website. Enter the requested information. You will be brought to your PFD status page.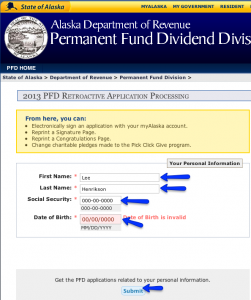 2. Click the Change button under Charitable. The Charitable Donation page will open.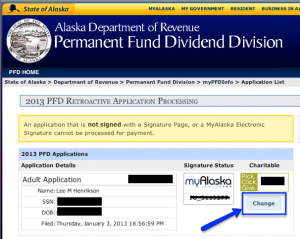 3. If this is a new donation to Radio Free Palmer In Step 1. Pick a Charitable Organization, type Radio in the Name box and click the Search button.  Skip this step if you have already made a donation to Radio Free Palmer.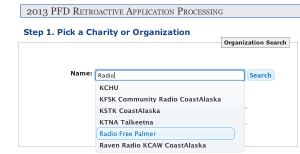 4. Beside Radio Free Palmer in the list, click the Add Pledge button
5. Everyone: In Step 2. Pick a Pledge Amount, select the amount from the drop down box.  You can change or add a donation to Radio Free Palmer in $25 increments.
6. Scroll down: in the yellow box, choose whether you want your donation to be anonymous or not.  Click Next Step when you are done.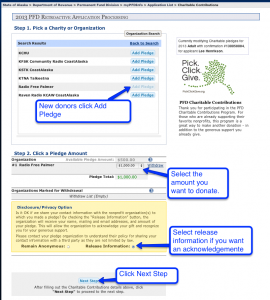 7. The PFD Status Page should now reflect your new total donation.
Thank you for donating to Radio Free Palmer!